Objects overview
An object is any item you place on your sheet. Photos, shapes, charts, and text boxes are examples of objects. You can change an object's appearance using the tools in the Format inspector.
Each object has its own formatting options, which are unique to the properties and characteristics of the object. For example, a line has endpoints, so when a line is selected, the Style pane of the Format inspector displays controls for changing the appearance of the endpoints.
You can quickly change the appearance of an object by clicking a style in the Style pane of the Format inspector. These styles—which consist of coordinating colors, borders, shadows, and more—are specifically designed to match your template.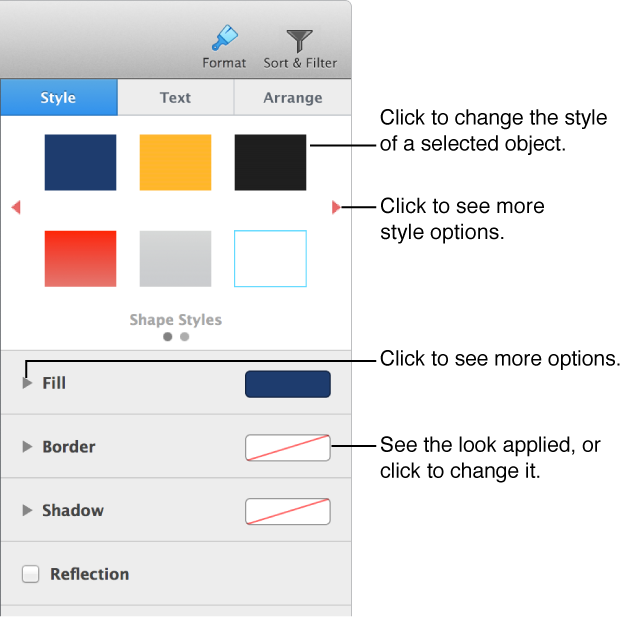 Add an object
Click an object type in the toolbar: Table, Chart, Text, Shape, or Media (to add photos, audio, and video).

Click the arrows to see more object styles, or scroll to see more photos, audio, and video.

Click an object to add it, then drag it to where you want it on the sheet.

To change the appearance of the object, select the object, then use the controls in the Format inspector to do any of the following:

Click a style to apply it.

Click the disclosure triangle next to Fill, Border, or Shadow, then use the controls to make changes.

Add a reflection to the object and change its transparency.